Ensuring Access to Reproductive Health Care
Reproductive health care professionals provide a range of critical, life-saving services.
Health care professionals who provide safe and legal abortion services in this country also provide a wide range of other reproductive health care services such as family planning and counseling, birth control, screenings for cancer, and testing and treatment for sexually transmitted infections (STIs).
How would not being able to access these health care services impact you?
In 2014, Planned Parenthood provided the following critical health care services:
Over 635,000
Pap tests and breast exams performed
271,539 Pap tests
363,803 breast exams
71,717 women whose cancer was detected early or whose abnormalities were identified
Over 2,900,000
Birth control information and services
931,589 emergency contraception kits
578,681 unintended pregnancies averted by Planned Parenthood contraceptive services
Over 4,200,000
Tests and treatment for sexually transmitted infections (STIs) provided
651,695 HIV tests
171,882 STIs diagnosed, enabling people to get treatment and to learn how to prevent the further spread of STIs
Many of these services go to women who otherwise might not get this care:
"Although proponents of closing Planned Parenthood argue that other providers would be easily able to fill the hole torn in the safety net, credible evidence suggests this is unlikely. In some areas, Planned Parenthood is the sole safety-net provider of contraceptive care. And even where there are other safety-net providers, they, on average, serve far fewer contraceptive clients than do sites operated by Planned Parenthood." -Health Affairs
Access to this care makes a fundamental difference for women:
"I have a history of ovarian cysts and twice have required surgery, at ages 8 and 14. After my second surgery, the doctor informed me that I should take contraceptives, because if it happened again, I might be infertile."
"I have dysmenorrhea, a condition that makes menstruation debilitatingly painful. Before I started taking oral contraceptives, the pain from [the condition] caused me to miss up to two days of school per month. The pain could not be reduced by over-the-counter or prescription painkillers."
"I became pregnant at age 18, during my first year of college, due to a contraceptive failure. College was a means of escape from a family plagued with violence and alcohol and drug addiction. I had nowhere to turn for the significant financial or emotional support that raising a child would require. Going "home" was simply not an option for me, as it was there I was subjected to physical abuse by my older brother. The legality and availability of abortion allowed me to terminate my pregnancy, stay in school and continue on to law school."
"More than thirty years [ago], when she was a single mother serving in the Ohio Air National Guard, Representative Fedor had been raped by an active duty member of the Air Force. She had never brought charges for this crime, concerned that women in her situation are "more often blamed than believed." When she learned that she had become pregnant, she terminated the pregnancy at a nearby Ohio clinic. The decision was not made lightly—Representative Fedor was the oldest daughter in a Catholic family of seven children—but she felt it was the best decision for her. Representative Fedor was grateful that in the early years after this Court's decision in Roe v. Wade, 410 U.S. 113 (1973), this option was readily available to her."
Yet Republicans Relentlessly Attack Planned Parenthood and Women's Health Care
In the past five years, Republican leaders at both state and federal levels have been unrelenting in their efforts to restrict access to essential women's health care services.
At the federal level, Congress has:
Voted 35 times to undermine access to the full range of reproductive care, including contraception and abortion.
Voted 9 times to defund Planned Parenthood in the 114th Congress.
Voted 63 times to repeal or undermine the Affordable Care Act since its passage.
Slashed funding for family planning and reproductive health programs.
Held 18 Congressional committee hearings on proposals to restrict access to contraception and abortion.
At the state level, 288 abortion restrictions have been enacted since 2011—with the last five years accounting for more than 25% of all abortion restrictions enacted since the Supreme Court's 1973 decision in Roe v. Wade.
Source: Guttmacher
As a result, funding for and access to these health care services is at risk:
Title X Funding Cut by $31 Million
Funding for Title X—the only federal program devoted specifically to supporting family planning services—has been cut by a staggering $31 million since 2011. These cuts far exceed the $13.9 million in cuts made over the previous 25 years, between 1985 and 2010.
Title X supports a range of reproductive health services at a variety of sites across the country, including federally qualified health centers, community clinics, and Planned Parenthood health centers.
Between 2006 and 2010:
Fourteen percent of all women who obtained contraceptive services, and 25 percent of all poor women who received contraceptive services, did so at a Title-X funded site.
Ten percent of all women who received a Pap test or pelvic exam did so at a Title X–funded site.
Nearly one-fifth of all women (18 percent) who received STI testing, treatment, or counseling did so at Title X–funded site.
Source: Guttmacher
In Texas, the Republican-led legislature in 2011 passed a budget that eliminated funding for any clinic associated with an abortion provider, which translated into slashing the state's family planning budget by two-thirds. The policy was aimed at closing down Planned Parenthood health centers in the state, but also affected other family planning providers in the state — and the impact was widely felt by women throughout Texas.
"By 2014, 82 family planning clinics across the state had closed. The consequence was calamitous. In Midland, for example, when the Planned Parenthood clinic closed, there were two aftereffects: 8,000 well-women appointments a year vanished, and so did the last place a woman could get an abortion between Fort Worth and El Paso."

"As the state has worked to rebuild its shattered network, the new providers don't necessarily have the same capacity to do cancer screenings and IUD insertions and birth control implants."
"The exclusion of Planned Parenthood affiliates from the Texas Women's Health Program had an adverse effect on low-income women in Texas by reducing the provision of highly effective methods of contraception, interrupting contraceptive continuation, and increasing the rate of childbirth covered by Medicaid."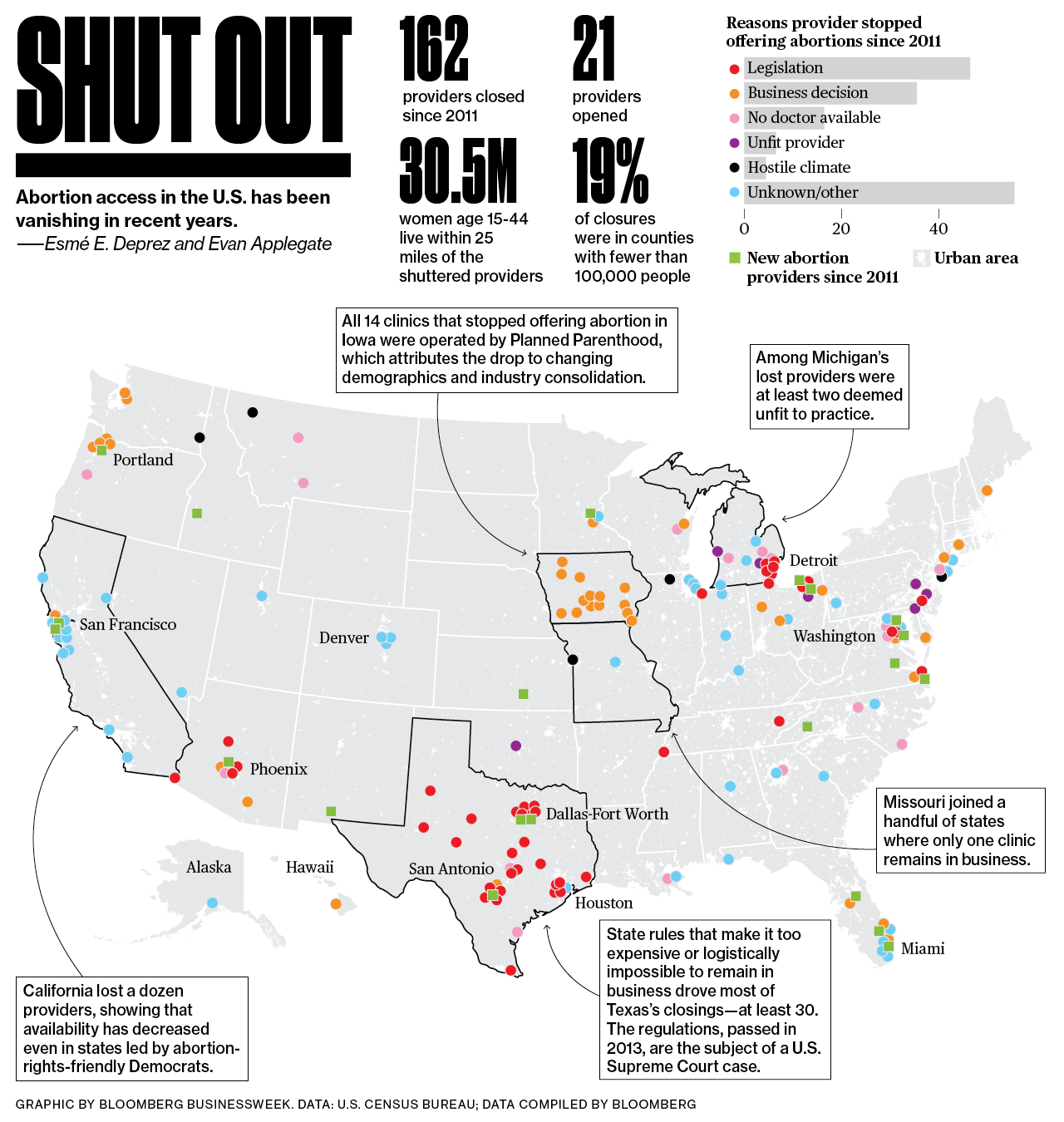 Safe and Legal Abortion
Across the country, access to safe and legal abortion is increasingly at risk with abortion clinics shutting at a record pace. Since 2011, over 160 abortion providers have closed their doors or stopped offering the procedure, while just 21 opened. On average, 31 abortion providers have closed or stopped performing abortions each year since 2011. There are currently five states that have only one clinic that provides abortions within state borders.